We are having an Internet Safety night next Thursday from 6pm-8pm here at RLBMS. We have special guests who will be coming to share information with students and families about hot topic issues like cyberbullying, navigating social media, and best practices to keep our children safe from online predators. Any student who comes with their guardian to the event will be entered into a drawing for some great prizes like a TV, Nintendo Switch, and an iPad. We will also be providing pizza, chips, water, and cookies for dinner.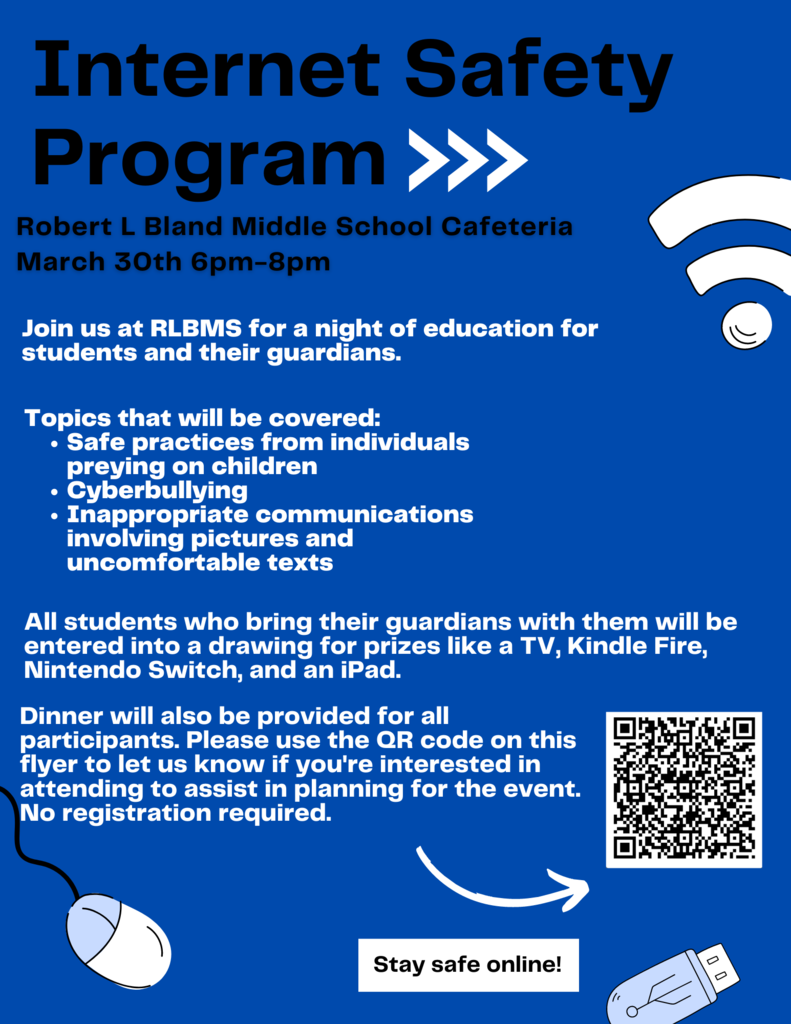 8th grade PEP parent meetings begin TONIGHT!!!! Students with the last name A-L are scheduled for tonight, March 15th. M-Z are scheduled for tomorrow, March 16th. Hours are from 4 to 6. You can come at anytime between those hours. You will enter through the cafeteria doors. If you are unable to make it this evening, you may come tomorrow evening or call an schedule an appointment with Mrs. Etzel. ***Parents MUST sign off on the PEP plan before it moves to the high school for scheduling.***

All schools in Lewis County will be closed Tuesday, March 14th.

All schools in Lewis County will be operating on a 2-hour delay, Tuesday, March 14th.

8th grade students have started the process of planning for their freshmen year during their advisory class. On Wednesday, March 15th and Thursday, March 16th from 4 to 6, we will be hosting an 8th grade Parent Night where staff will review the plan with students and parents. This will give parents the opportunity to discuss student scheduling choices and sign off on the plans that will be given to the high school. March 15th will be students with the last names A-L. March 16th will be students with the last names M-Z. If your assigned date doesn't work for you, you may come on the other scheduled night or call the school and make an appointment with Mrs. Etzel. You can check your student's Advisory class in Schoology to find a link to the LCHS course description.

Last Parent Teacher Conference of the 22-23 school year will be Wednesday, March 8th from 3:30 to 6:30. No appointment necessary.

Lewis County Schools will utilize a Non-Traditional Day on Friday, March, 10th. Teachers and staff will report to schools, and students will work from home on NTID packet 2. Teachers will be available for student assistance.

Reminder: Tomorrow, February 24th, students will be dismissed 2 hours early.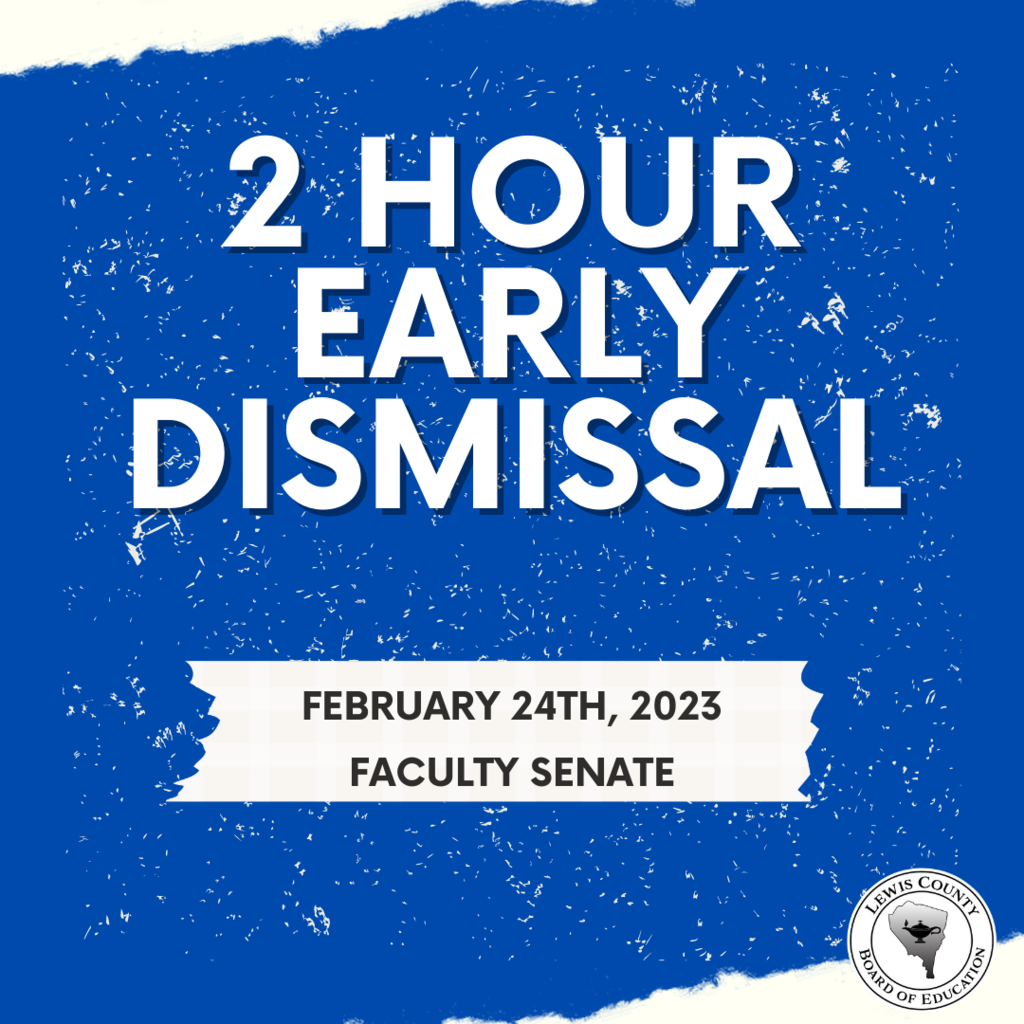 Be sure to enable notifications for the schools you want to receive push notifications from on our Lewis County Schools App (downloaded from the App Store or Google Play). To subscribe to a push notification group. Simply open the app, tap on "Settings", "Push Notifications", and then select the groups you'd like to subscribe to. Tap "Done" to save.

Reminder: Tomorrow, February 17th and Monday February 20th there will be no school for students. Enjoy the long weekend!

Sign up using this QR Code! Lewis County High School Job Fair March 22, 2023 (office.com) Deadline to register is March 15th!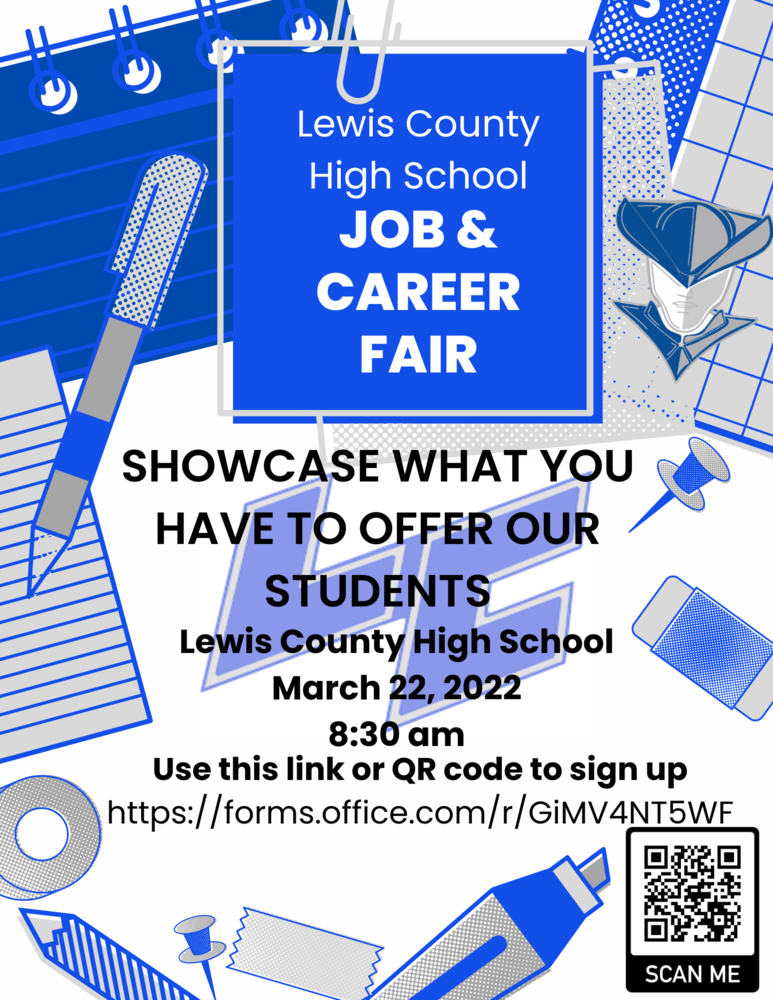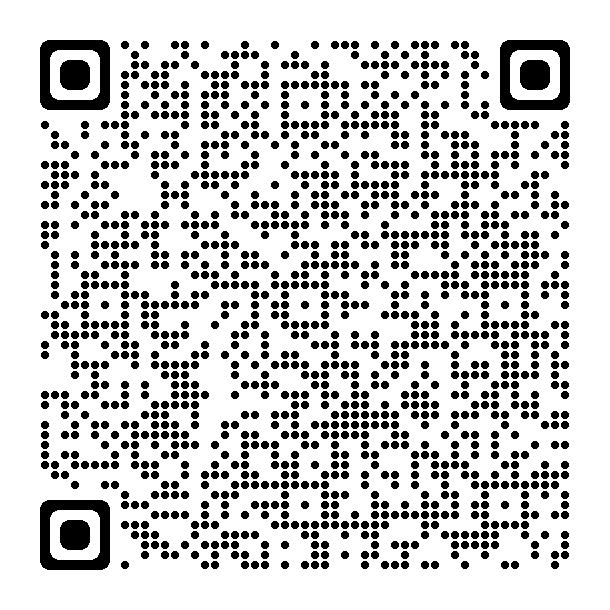 Good morning...... A few pieces of information for today Wednesday, January 25.... Please remember that today is an NTID day. Students are required to complete snow packet number 1. All snow packets are on Schoology and teachers have shown their students where to find them. The water line break has been repaired. As of now, all bathrooms and water fountains in the school are operational.

Today, Monday, January 23rd Robert L. Bland Middle School experienced an unexpected fire alarm.  Students and staff were removed from the building for a short period of time.  As soon as administration was notified that the gym was secure and safe, all students and staff were moved to the gym.  The time outside was approximately five minutes.  Out of concern for the safety and security of everyone,  the custodians began a walkthrough of the building and the Weston Fire Department sent staff to walkthrough as well.  Once the building was deemed safe and secure, students and staff returned to their normal schedule.  The custodial staff will continue to complete walkthroughs for the remainder of the day. We applaud our staff and students for their excellent example of preparedness through today's events.  They certainly showed their Patriot PRIDE.

Good afternoon, I wanted to take some time to inform parents about an issue that we have been struggling with here at RLBMS. Over the last several weeks, the number of students who have been caught with vapes has tripled. Some of these students have been so blatent as to vape in the classroom during class. As you can imagine, this is a disruption to the educational environment as well as danger to our student's health and against the law. In an effort to curb this dangerous trend, we have decided to tighten our procedures we use when dealing with vaping students. 1st offense……Afterschool Detention (1), Cessation class (if not completed, 1 day suspension), Law enforcement involvement 2nd offense……Afterschool Detention (2), Cessation class (if not completed, 1 day suspension), law enforcement involvement 3rd offense……1 day suspension, Cessation class (if not completed, 1 day suspension), law enforcement involvement From this point forward, If a student gets caught with a vape, they will lose their privilege of wearing any shirt with deep pockets and any hooded or nonhooded sweatshirts. If a student gets caught with a vape they will be isolated away from others in class. If other students are involved by using the vape, they will be separated from each other. Those students caught with a vape will be required to be escorted to the bathroom by administration. Our goal is to ensure that we have an educational environment that is as distraction free as possible. We also want our student to live a healthy lifestyle. If you have any questions or concerns, please feel free to contact me.

Food orders from the schoolwide fundraiser will be delivered today, November 17th. Pick up for those item will be from 4 to 6 pm this evening in the cafeteria. Please enter through the cafeteria door.

Come join us. Below you will find a list of the teachers that will be attending. Some of our teachers have prior obligations that makes them unable to attend. Teachers unable to attend will be providing additional ways to contact them if you have questions or concerns. 5th Grade Flesher Gee Frey 6th McCord 7th Jones Rittenhouse Linger Zirkle.....Due to illness, cannot attend DeJosia.....Due to illness, cannot attend 8th Jack Bright Martin Burge Fisher Richards....cannot attend Froemming....cannot attend Vocational Parks Specialists Lattea Stalnaker McCarty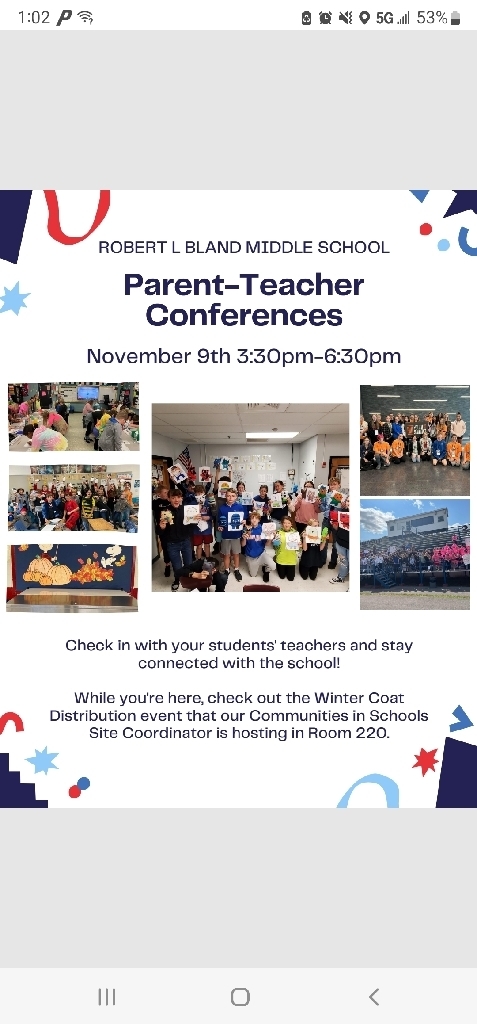 Parent Teacher Conferences will be held on Wednesday, November 9 from 3:30 to 6:30.

Report cards will be coming home today, Friday, October 28th.

Our schoolwide fundraiser is coming to an end. All order forms and money is due in to the main office on Monday, October 17th. You can write checks to RLBMS or send in cash. Have a wonderful day.

This week we will be celebrating homecoming week in Lewis County. Join in the fun as we go on a week long journey.